Description
REDUCES NAILS TO CHIPS without grabbing and leaves a fairly clean hole with minimal "blowout".
Be sure to use this bit only when drilling reclaimed timbers, or timber with embedded nails or anticipated obstructions. The bit pulverizes those, but leaves a hole not as clean as our Ultra Smooth auger bit.
Be sure to select the right bit for your job at hand.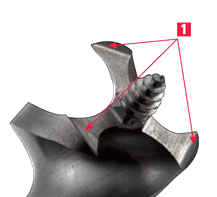 Tri-Cut augers are constructed of high-grade carbon steel. The three cutting edges are precision-ground, and WoodOwl's tightly-controlled heat treatment process ensures a safe and durable bit.
 Tri-Cut CARBON Augers are especially designed for tough applications where the user needs to be able to cut any type of wood, including nail-embedded timber, and where only a fairly clean hole is expected.
Perfect combination of quality and value with the combined benefits of ease of use, safety, and nail elimination.
Triple cutting-edge auger – the multi-application bit designed to excel in situations where wood condition ranges from pristine to poor. 
Payment & Security
Your payment information is processed securely. We do not store credit card details nor have access to your credit card information.